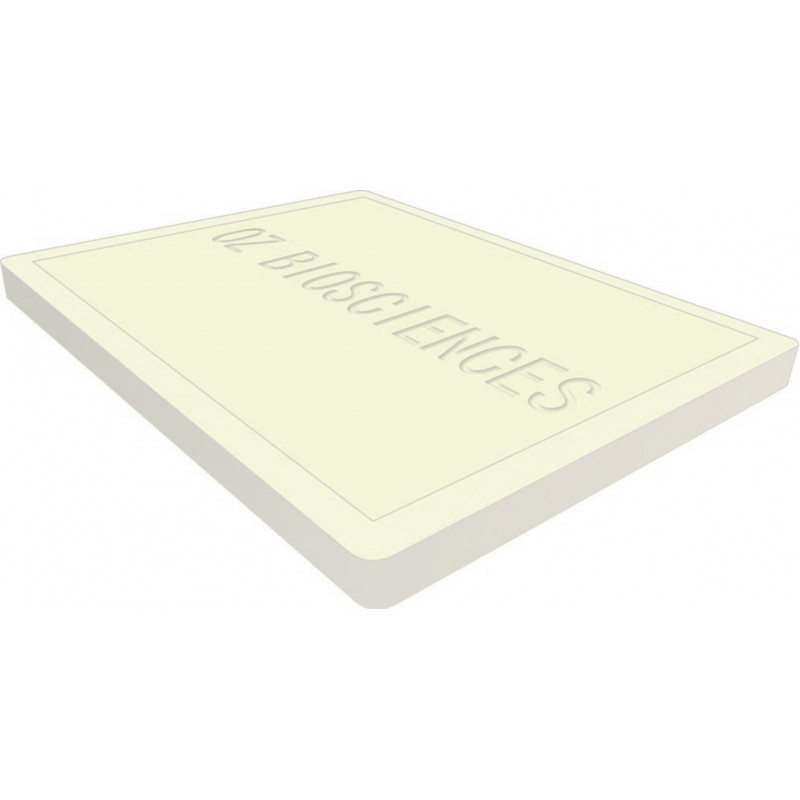  
Magnetic plates
Magnetofection technology requires an appropriate magnetic field that magnetizes the nanoparticles in solution, forms a very strong gradient to attract the nanoparticles onto cells and covers all the surface of the culture dish. Therefore, optimized magnetic plates with tailored properties have been especially designed for Magnetofection. 
OZ Biosciences' magnetic plates main features:
Suitable for all Magnetofection reagents and all cell culture dishes (384-, 96-, 4, 24, 12, 6-well plates, 35, 60, 90 & 100 mm dishes, T-25, T-75 and any other flasks)

Can be easily cleaned and decontaminated with 70% ethanol

Can be used within incubators and with robots

Can be used at room temperature, 37°C, +4°C, etc.

Compatible with culture plates from most common suppliers

Solid, completely reusable, it is a one-time buy.
Please log in or register to see the prices for your country
| | | | |
| --- | --- | --- | --- |
| Catalog number | Unit Size | Price excl tax | Quantity / Buy |
| MF10000 | Super Magnetic plate 8 x 12 cm | | |
| MF10096 | Magnetic plate 96 magnets : 8 x 12 cm | | |
| MF14000 | Mega Magnetic Plate : 20 x 26 cm | | |
MF10000
Super Magnetic plate 8 x 12 cm
MF10096
Magnetic plate 96 magnets : 8 x 12 cm
MF14000
Mega Magnetic Plate : 20 x 26 cm
NAME
MOLECULE VECTOR
PRODUCT
REFERENCE
0
0
Magnetic Plates
Castellani S., Eur J Pharm Biopharm. 2022 Aug 1;S0939-6411(22)00155-2.
661W
Magnetic plates
Bassetto M., Pharmaceutics. 2021 Oct 9;13(10):1650.
A2780
DNA
Magnetic plates
Yin PT., Biomaterials. 2016 Mar;81:46-57. doi: 10.1016/j.biomaterials.2015.
AdSC
DNA
Magnetic plates
Yin PT., Biomaterials. 2016 Mar;81:46-57. doi: 10.1016/j.biomaterials.2015.
all cells
0
Magnetic plates
Sakamoto S., Talanta 2018. 194(1)731-736
C2C12
Adenovirus
Magnetic plates
Pereyra AS., J Nanomad Nanothechnol 2016. 7-:2
C2C12
Retrovirus/Lentivirus
Magnetic plates
Akiyama H., Biomaterials. 2010 Feb;31(6):1251-9.
C2C12
Other
Magnetic plates
Akiyama H., J Biomed Mater Res A. 2010 Mar 1;92(3):1123-30.
C2C12
Retrovirus/Lentivirus
Magnetic plates
Akiyama H., J Biosc and Bioeng. 2009; 108:S29-S40.
C2C12
Retrovirus/Lentivirus
Magnetic plates
Akiyama H., WCECS. 2010; 2.
Cardiomyocytes
Magnetic plates
Lapp H., Sci Rep. 2017 Aug 29;7(1):9629. doi: 10.1038/s41598-017-09760-7.
Cf2Th
Retrovirus/Lentivirus
Magnetic plates
Haim H., PLOS Pathogens. 2009 ; 5(4):e1000360.
COS-1
Retrovirus/Lentivirus
Magnetic plates
Ito A.,Tissue Eng Part C Methods. 2009 Mar;15(1):57-64.
COS-7
Retrovirus/Lentivirus
Magnetic plates
Ito A.,Tissue Eng Part C Methods. 2009 Mar;15(1):57-64.
Endothelial cells
DNA
magnetic plates
Czugala M., Nanomedicine (Lond). 2016 Jul;11(14):1787-800.
EPP85-181
Adenovirus
Magnetic plates
Tresilwised N., Biomaterials. 2012 Jan;33(1):256-69.
Fibroblasts
DNA
Magnetic plates
Grzekowiak BF., Mol Biotechnol. 2016 May;58(5):351-61.
GDTC
Other
Magnetic plates
Siegers GM., Cancer Immunol Immunother. 2013 Mar;62(3):571-83.
GTL-16
magnetic plates
Peigneux A., Particle. 2019, doi.org/10.1002/ppsc.201900057
HaCaT
Other
Magnetic plates
Akiyama H., J Biomed Mater Res A. 2010 Mar 1;92(3):1123-30.
HEK-293
Virus
Magnetic plates
Ruprecht C.,J Exp Med. 2011 Mar 14;208(3):439-54.
HEK-293
Virus
Magnetic plates
Takafuji M., J. Mater. Chem. B, 2014,2, 644-650
HSC-3
0
Magnetic plates
Obayashi-Ishii M., J Oral Sci. 2018 Sep 23;60(3):374-380.
HUVEC
Adenovirus
Magnetic plates
Anton M., Pharm Res. 2012 May;29(5):1219-31.
in vivo
Magnetic plates
Lim J., 2021, Braz. arch. biol. technol. 64
in vivo: Calvarial defect
magnetic plates
Brett E., Stem Cells Transl Med. 2016 Aug 2. pii: sctm.2016-0051.
in vivo: Skin Flap Model
DNA
Magnetic plates
Holzbach T., J Cell Mol Med. 2010; 14(3):587-99.
Jurkat
DNA
Magnetic plates
Mykhaylyk O., Nat Protoc. 2007;2(10):2391-411.
MCF-10A
DNA
Magnetic plates
Yin PT., Applied Mat and Interfaces, 2018. DOI: 10.1021/acsami.8b09086
-7,00 MCF
DNA
Magnetic plates
Yin PT., Applied Mat and Interfaces, 2018. DOI: 10.1021/acsami.8b09086
-7,00 MCF
DNA
Magnetic plates
Biswas S., Biomaterials. 2011 Apr;32(10):2683-8.
MDA-MB-231
DNA
Magnetic plates
Yin PT., Applied Mat and Interfaces, 2018. DOI: 10.1021/acsami.8b09086
MDA-MB-231
Other
Magnetic plates
Shah BP., ACS Nano. 2014ᅠSep 23;8(9):9379-87
MEF
DNA
Magnetic plates
Kami D., Nanomedicine. 2014 Apr 4. pii: S1549-9634(14)00136-1.
Mononuclear cells
DNA
Magnetic plates
Muller P., Stem Cells International. 2016
MSC
magnetic plates
Kono Y., Biomedicines . 2023 Feb 14;11(2):558.
MSC
DNA
magnetic plates
Kono Y., Int J Pharm. 2021 Mar 1;596:120298.
MSC
DNA
magnetic plates
Hsu FT., Artif Cells Nanomed Biotechnol. 2018 Sep 8:1-12.
MSC
shRNA encoded plasmid
Magnetic plates
Donnelly JM., Am J Physiol Gastrointest Liver Physiol. 2014 Jun 15;306(12):G1075-88.
Neural Stem Cells
miRNA
Magnetic plates
Majumdar A., J Mol Med (Berl). 2017 Aug 25. doi: 10.1007/s00109-017-1571-z.
NIH-3T3
Magnetic plates
Xiao S., J Biomed Nanotech, 2015; 11(15); 1370-84
PC-3
Other
Magnetic plates
Pollok S., Cell Signal. 2013 Apr;25(4):989-98.
RAW 264.7
other
Magnetic plates
Kono Y., Drug Deliv. 2019 Dec;26(1):935-943. Doi: 10.1080/10717544.2019.1662515.
RAW 264.7
other
Magnetic plates
Kono Y., Drug Deliv. 2017 Nov;24(1):1740-1749.
SK-Mel-37
Other
Magnetic plates
Pollok S., Cell Signal. 2013 Apr;25(4):989-98.
Skin Flap Model
DNA
Magnetic plates
Holzbach T., J Cell Mol Med. 2010; 14(3):587-99.
SW480
DNA
Magnetic plates
Geinguenaud F., J Phys Chem B. 2014 Feb 13;118(6):1535-44.
SW480
DNA
Magnetic plates
Geinguenaud F., Nanomedicine. 2012 Oct;8(7):1106-15.
TZM-bl
Other
Magnetic plates
Kadiu I., J Neuroimmune Pharmacol. 2011 Dec;6(4):658-75.
U-87
Other
Magnetic plates
Shah BP., ACS Nano. 2014ᅠSep 23;8(9):9379-87